Custom Cabinets for Your Home or Business in Englewood
Experience the Beauty of Custom Cabinets in Englewood
If you are thinking about adding custom cabinets to your home or business in Englewood, you are not alone. More and more home and business owners are opting for custom cabinets due to their beauty and functionality.  Unlike stock cabinets, custom cabinets are designed and built to meet your specific storage and aesthetic needs. Southwest Restoration has been designing and building custom cabinets since 1988. We use only the highest quality products and state of the art manufacturing to ensure your cabinets meet all your needs.
What Makes Custom Cabinets from Southwest Restoration Superior to Others in Englewood?
At Southwest Restoration we strive to provide the best customer experience in the industry.  We care about our customers, community and employees and take pride in providing the best craftmanship and materials. Our specialists have extensive knowledge and expertise to tailor a design to fit your specific space. With satisfied customers who return again and again, and an abundance of positive reviews, we are one of the finest custom cabinet contractors in the area. Whether you have had damage to your home or business, or you are just ready to upgrade the appearance of your cabinets, we have the right solution for you. Contact us today!
Create the Perfect Custom Cabinet Solution for your Needs, Lifestyle and Budget
With the use of our virtual computer design system we can come to your home and work with you to create the perfect cabinet solution that will reflect your tastes and lifestyle. There is nothing that you can imagine that our team of in-house craftsmen can't create. From conception to completion the professionals at Southwest Restoration Inc. will make your dream a reality.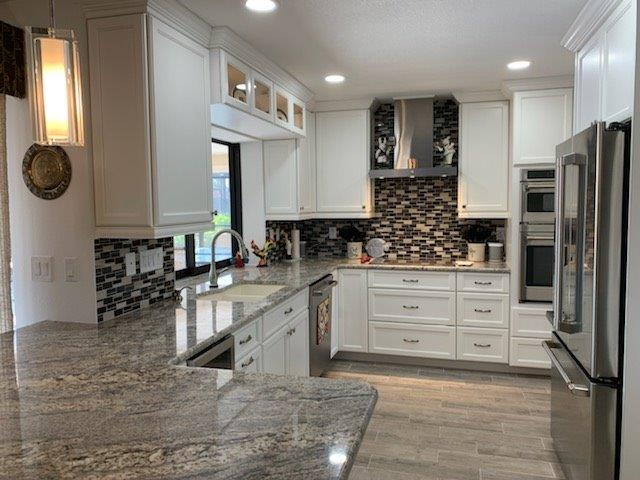 Benefits of Custom Cabinets
Walk into any room and one of the first things people notice is the cabinets. When you install custom cabinets, you instantly add value and beauty to your home.  Custom cabinets will not only reflect your personal tastes and lifestyle but create a beautiful and functional atmosphere. The benefits include:
They are Custom – Unlike stock cabinets, custom cabinets are made to meet specific designs and layouts. You decide what type of wood, hardware, style and finish you want
Outstanding Quality – Custom cabinets are made by skilled craftspeople. They are built to last
Increased Functionality – From pull out drawers to rotating shelves, you decide what you need.
No Space is Wasted – Because custom cabinets are built for your specific needs, no space is wasted
Beautiful Addition to Any Room – Custom cabinets are beautifully crafted.
Add Value & Beauty to your Home or Business with Custom Cabinetry
How Do I Properly Clean my Kitchen Cabinets?  Bathroom Cabinets?
Both kitchen and bathroom cabinets get a lot of use. They are exposed daily to spills, drips, grease, grime, sticky fingers, hair products, water, and dust  Without proper cleaning, your cabinets will begin to appear not only dirty but also dull. The good news is that custom cabinets are easy to clean and maintain. To remove built up residue all you need is warm water and a soft cloth. Dampen the cloth and wipe down your cabinets a couple of times a month or more depending on how much residue is present. For tougher areas, mix a little soap with the water.  When wiping them down try to go in the direction of the grain and remove any leftover moisture with a dry soft cloth. Your goal is to clean your cabinets, not damage them. Avoid the following:
Ammonia
Bleach
Paint Thinners
Plastic Brushes
Scouring Pads
Solvents
Contact Southwest Restoration for Custom Cabinets in Englewood
Throughout your cabinet renovation and installation process we ensure the highest quality work while maintaining budget and following timelines. We pride ourselves on our creativity and passion in bringing your visions to life. Family owned and operated we are the local contractor you can count on. Don't settle for anything less than the best for your home or business. Contact us today for a free in-home estimate.
I had these guy redo the cabinet work for my kitchen, two baths and a wet bar. They were fantastic, would recommend to a best friend. They deliver what they say in a timely, reasonable priced and top quality way. Terrific experience with them.
Make any Room More Spacious and Comfortable in Englewood with Custom Cabinets
Don't Settle for Anything Less than the Best.  Experience the Difference Today!
Quality Workmanship with a Highly Trained and Skilled Team in Remodeling & Restoration
Help You Can Depend On 
Help with Insurance Claims
An Impeccable Reputation, 30 Years of Satisfied Clients in Southwest Florida
Unmatched Craftsmanship
Extensive Experience and Knowledge of all Construction Phases
Honest and Comprehensive Communication throughout your Renovation or Restoration
Outstanding Customer Service
Superior Quality Control Standards
Free in-Home Estimates with no Surprise Costs
Protection & Peace of Mind – Professional, Fully Licensed & Insured Team, with IICRC Certification
You Have the Vision
We Have Your Solution
⇒  Kitchen Remodeling
⇒  Bathroom Remodeling
⇒  Custom Cabinetry
⇒  Closets
⇒  Flooring
⇒  Countertops
⇒  Entertainment Centers
⇒  and More
You Have the Vision
We Have Your Solution
⇒  Kitchen Remodeling
⇒  Bathroom Remodeling
⇒  Custom Cabinetry
⇒  Closets
⇒  Flooring
⇒  Countertops
⇒  Entertainment Centers
⇒  and More
Southwest Restoration is Proud to Offer Services in the Following Communities
Port Charlotte
Punta Gorda
Manasota Key
Rotonda
North Fort Myers
Fort Myers
Cape Coral
Lake Suzy
Englewood
North Port
Sarasota
Venice
South Venice
Arcadia
All Surrounding Areas