Kitchen Cabinets Lake Suzy
Turn the Kitchen you Have into the Kitchen you want in Lake Suzy with Custom Cabinets
Are you looking for kitchen cabinets in Lake Suzy? If so, contact Southwest Restoration. We specialize in home remodeling. This includes building functional and beautiful custom cabinets. Not only will our cabinets improve the functionality of your kitchen, but they will also increase the overall value of your home. In fact, upgrading your cabinets will pay off both while you are still living there, and when it is time to sell. With over 30 years of experience, we have worked with thousands of homeowners in our area. We are committed to delivering the highest quality workmanship and the best customer service in the industry. Contact us today for a free consultation.
Choosing the Right Type of Cabinets for Your Kitchen in Lake Suzy
When choosing cabinets for your kitchen, it is important to not only select cabinets that serve a functional purpose, but also add style and beauty to the most used room in your home. Each kitchen design is unique. Some kitchens are classic, and some are contemporary. Either way, the cabinet style you choose should provide the functionality your need. At the same time, they need to reflect your unique tastes, home décor, and personality. Custom cabinets are highly desired. This is because they are built to fit your design preferences, habits, storage needs, cooking preferences, and unique kitchen shapes. With custom cabinets from Southwest Restoration, your design choices are limitless.
We Will Create the Perfect Kitchen Cabinet Solution to Fit Your Needs, Lifestyle and Budget in Lake Suzy
With the use of our virtual computer design system, we can come to your home or business and work with you to create the perfect cabinet solution that will reflect your tastes and lifestyle. Above all, there is nothing that you can imagine that our team of in-house craftsmen can't create. From conception to completion, we can and will make your dreams a reality.
Why Do Custom Kitchen Cabinets Offer You the Best Solution in Lake Suzy?
They are Custom
Unlike stock cabinets, custom cabinets will meet specific designs and layouts. In other words, they will fit your kitchen. Not only do you decide the type of wood you want, but you also choose the style, finish, and hardware.
No Space is Wasted
Because custom cabinets are built for your kitchen, you will have more usable space and less wasted space.
Increased Functionality
From pull out drawers to rotating shelves, you decide what you need.
Outstanding Quality
Skilled tradespeople build custom cabinets. In other words, they are built to last.
Add Curb Appeal
The kitchen is the most popular room in the home to renovate. Even the simplest of updates, such as new cabinets, increase your home's value and curb appeal. 
Beautiful Addition to Your Kitchen
To sum up, custom cabinets are beautifully crafted.
New Kitchen Cabinets will give you more Functionality and Comfort.
Not to Mention Improving the Appearance of your Home or Business.
Why Contact Southwest Restoration for Custom Kitchen Cabinets?
When it comes to kitchen cabinets, trust the experts at Southwest Restoration. In business since 1988, we have completed thousands of kitchen cabinet projects. As a result, we can create the perfect solution for your kitchen. Moreover, your complete satisfaction is important. As such, our goal is to complete your project on time and within budget. In the long run, we are the local, family owned remodeling and restoration contractor you can trust. We look forward to working with you, contact us today for a free estimate. Otherwise, you can reach us online at the top of the page.
I had these guy redo the cabinet work for my kitchen, two baths and a wet bar. They were fantastic, would recommend to a best friend. They deliver what they say in a timely, reasonable priced and top quality way. Terrific experience with them.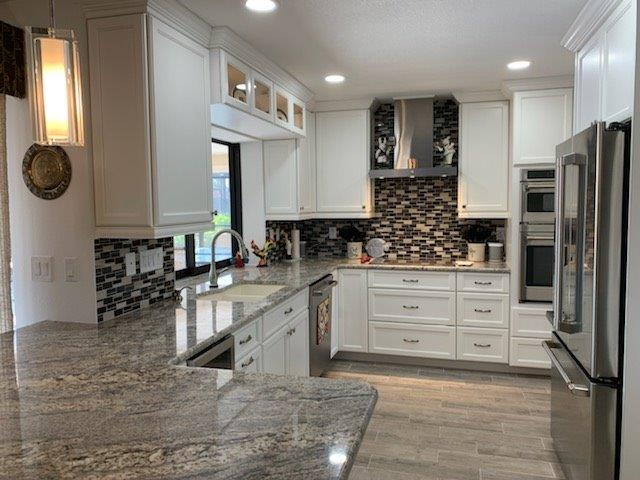 Don't Settle for Anything Less than the Best.  Experience the Difference Today!
Quality Workmanship with a Highly Trained and Skilled Team in Remodeling & Restoration
Help You Can Depend On 
Help with Insurance Claims
An Impeccable Reputation, 30 Years of Satisfied Clients in Southwest Florida
Unmatched Craftsmanship
Extensive Experience and Knowledge of all Construction Phases
Honest and Comprehensive Communication throughout your Renovation or Restoration
Outstanding Customer Service
Superior Quality Control Standards
Free in-Home Estimates with no Surprise Costs
Protection & Peace of Mind – Professional, Fully Licensed & Insured Team, with IICRC Certification
You Have the Vision
We Have Your Solution
⇒  Kitchen Remodeling
⇒  Bathroom Remodeling
⇒  Custom Cabinetry
⇒  Closets
⇒  Flooring
⇒  Countertops
⇒  Entertainment Centers
⇒  and More
You Have the Vision
We Have Your Solution
⇒  Kitchen Remodeling
⇒  Bathroom Remodeling
⇒  Custom Cabinetry
⇒  Closets
⇒  Flooring
⇒  Countertops
⇒  Entertainment Centers
⇒  and More
Southwest Restoration is Proud to Offer Services in the Following Communities
Sarasota
Venice
South Venice
Arcadia
All Surrounding Areas