Kitchen Renovations & Remodeling North Fort Myers
Kitchen Remodeling to Fit your Needs, Lifestyle and Budget in North Fort Myers
If you are searching for the best kitchen remodeling contractor in North Fort Myers, look no further than Southwest Restoration.  Whether you are looking for a way to update an outdated look or a full renovation, our team will create a look to fit your needs, budget, and lifestyle. From countertops and backsplash to flooring and cabinets, the professionals at Southwest Restoration will complete your remodeling project flawlessly, on time and on budget. From conception to completion the professionals at Southwest Restoration Inc. will make your dream kitchen a reality. Our goal is to provide our customers with the following:
Exceptional Customer Service
Outstanding Craftsmanship
The Best Value in North Fort Myers
Improved Comfort & Safety
Improved Design & Function
Improved Home Value
And More
The Kitchen is the  Most Popular Room to Remodel  
Kitchen renovations insert value into the home both financially, aesthetically, and functionally.  Even the simplest updates, such as adding eye catching backsplash, new flooring, stone countertops and beautiful cabinets will increase both the value of your home and your level of enjoyment when entertaining, preparing meals, or hanging out.  The kitchen is considered the hub of the home and can set the design stage for the rest of your property.  The flooring and cabinetry you choose can easily transition throughout your house in bathrooms, bedrooms, living areas and hallways.  It is not uncommon for homeowners that want to remodel multiple rooms in their home to begin in the kitchen.
Help you Can Count On for your Kitchen Renovations and Remodeling in North Fort Myers
When you hire us, we will tailor a plan to fit your needs and lifestyle, whether you need a refresh or a full renovation.  We have the experience, knowledge and resources to work with the space you currently have and transform it into the space of your dreams.
Our kitchen remodeling services include:
Complete Kitchen Renovation from Demolition to Completion
Free Estimates
Design & Project Management
Cabinets
Built Ins
Backsplash
Countertops
Deep Storage Drawers
Hidden Outlet Strips
Flooring
Islands & Peninsulas
Moldings
Nooks
Open concept Layouts
Open Shelf for Cookbooks
Pantry
Pull Out Storage
Replacing Hardware
Replacing Sinks & Faucets
Undercabinet Lighting – Light Fixtures
Undercabinet Wine Refrigerator
Wet Bars & Wine Storage
And More
See More of Our Work Here 
What are the Most Popular Kitchen Countertops?
Trying to determine what material to choose for your countertops is an essential decision.  Choosing a material that suits your aesthetic requirements, lifestyle, design needs and budget is important. Your countertops not only function for food preparation, but also are one of the main events in the kitchen. The most popular kitchen countertop options include:
Granite –   One of the most popular countertop surfaces, granite is an affordable, durable kitchen countertop surface that resists heat, stains, and scratches. Being a natural stone, each slab of granite is unique and can instantly transform the look and feel of your kitchen.
Quartz – Quartz is stain, heat, scratch, and bacteria resistant, making it a perfect choice for kitchens.  Being a manufactured stone, quartz is available in nearly any color making it highly desirable for homeowners.
Marble – Marble is an elegant and affordable stone that will add timeless beauty to any kitchen. Marble can be used in the kitchen, although due to its soft nature cutting boards or other barriers need to be used to prevent scratching, chipping, and permanent staining.
Quartzite – Quartzite has become one of the most sought after countertops and for good reason.  Quartzite is a preferred choice for homeowners and interior designers due to its durability, design potential, marble like appearance and ease of maintenance.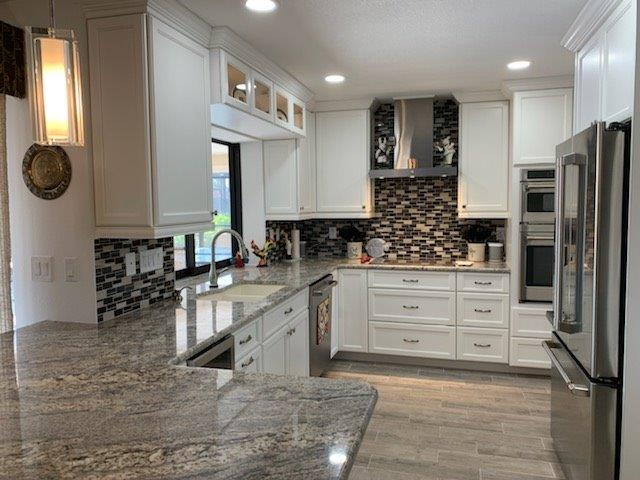 Are your Remodeling and Renovation needs due to an Unfortunate Disaster?
No Worries, All Insurance Work is Accepted and We Bill Your Insurance Directly!
Have the Best Kitchen Renovations and Remodeling Team on your Side in North Fort Myers
At Southwest Restoration we know how essential your home is to you and your family.  For over 30 years, our team has provided unmatched craftsmanship and outstanding customer service to all our clients, large or small.  Throughout your kitchen renovation and installation process we ensure the highest quality work while maintaining budget and following timelines. We pride ourselves on our creativity and passion in bringing your kitchen visions to life.  Family owned and operated we are the local contractor you can entrust.  Don't settle for anything less than the best for your home.  Contact us today for a free in-home estimate.
I contracted with SW Restoration for a huge renovation that took 3 months to complete. The workmen were very courteous and respectful with us and our property. If there was an issue, I was always contacted by Ryan, the owner or Mark, the super on the job to communicate the issue and give me a timeline on when to expect things to be completed or resolved. I was impressed with all the staff from those in the field, to those in the office. I made changes along the way that were met with enthusiasm and professionalism. Warren surpassed my expectations in the kitchen remodel and went out of his way to make sure I got what I wanted. It was actually a pleasant experience and I recommend them highly. They care! About the workmanship and their customer. I felt like I was their only customer given the attenion they paid to my renovation. Extremely pleased and will use them again on the next renovation.
Which kitchen remodeling upgrades provide the highest return? Learn more Here
Don't Settle for Anything Less than the Best.  Experience the Difference Today!
Quality Workmanship with a Highly Trained and Skilled Team in Remodeling & Restoration
Help You Can Depend On 
Help with Insurance Claims
An Impeccable Reputation, 30 Years of Satisfied Clients in Southwest Florida
Unmatched Craftsmanship
Extensive Experience and Knowledge of all Construction Phases
Honest and Comprehensive Communication throughout your Renovation or Restoration
Outstanding Customer Service
Superior Quality Control Standards
Free in-Home Estimates with no Surprise Costs
Protection & Peace of Mind – Professional, Fully Licensed & Insured Team, with IICRC Certification
You Have the Vision
We Have Your Solution
⇒  Kitchen Remodeling
⇒  Bathroom Remodeling
⇒  Custom Cabinetry
⇒  Closets
⇒  Flooring
⇒  Countertops
⇒  Entertainment Centers
⇒  and More
You Have the Vision
We Have Your Solution
⇒  Kitchen Remodeling
⇒  Bathroom Remodeling
⇒  Custom Cabinetry
⇒  Closets
⇒  Flooring
⇒  Countertops
⇒  Entertainment Centers
⇒  and More
Southwest Restoration is Proud to Offer Services in the Following Communities
Port Charlotte
Punta Gorda
Manasota Key
Rotonda
North Fort Myers
Fort Myers
Cape Coral
Lake Suzy
Englewood
North Port
Sarasota
Venice
South Venice
Arcadia
All Surrounding Areas