Are You Looking to Remodel your Condo?
There is nothing better than coming home to a beautiful, updated condo. In fact, there are many benefits to condo remodeling. Not only will your condo feel new, but it will also increase in value. Making upgrades to flooring, countertops and cabinets can make a difference. Most condo renovations pay off while you are still living there,  and when it is time to sell. As we are all aware, styles change as years go by. So, if your condo is older, it may be time for some updates. Even the most modest kitchen, bath, or master bedroom can be instantly transformed.
If you are looking to remodel your condo, contact Southwest Restoration. With over 30 years of remodeling experience, we have worked with thousands of clients in Southwest Florida. In fact, we can work with the space you have and transform it into the space you want. However, a condo renovation is different from a home renovation. Because you live in a community, there are more guidelines and restrictions to follow. For example, restrictions may exist on the layout and materials you choose. As such, it is important to work with the HOA to ensure guidelines are followed.
Benefits of Remodeling your Condo
At Southwest Restoration we understand how important your home is to your family. Having a condo you enjoy spending time in is essential to your happiness. Overall, the benefits you receive will bring enjoyment for years to come and include:
Beautifies Your Home
Customizes Your Home to Fit Your Needs
Enhances Your Property Value
Improves Home's Functionality
Increases Storage Space
Remodeling your Condo will Provide more Comfort and Enjoyment!
Not to Mention Adding Value for Years to Come
Condo Remodeling Services
Whether you are looking for a complete kitchen or bath overhaul, or just simply want to update your outdated look, we can help! Some of our services include:
Kitchen and Bath Remodels
Kitchens and baths are the most popular rooms to remodel. In fact, they will insert value into your condo on many levels. As stated earlier, not only will kitchen and bath remodels increase the value of your condo, but they will also increase your enjoyment. Even the simplest of updates, such as adding backsplash, countertops, cabinets, or flooring will transform your condo's look and feel.
Discover More About Kitchen Remodeling>
Flooring
Choosing the right flooring for your condo is a big decision, and a critical part of any interior design. Also, flooring is a large investment, so you need to make the right decision. Choosing the right contractor is the first step to take to make sure your results are successful. As a local remodeling and restoration company, we understand flooring. Not only will we help you choose the right flooring for your needs, but we will also seamlessly install your flooring. Learn More Here >
Custom Cabinets
Are your cabinets worn and dated? Do you lack enough storage? If so, custom cabinets are perfect for you. From kitchens and bathrooms to closets, custom cabinets provide function and style. As a matter of fact, custom cabinetry is specifically designed to cater to your individual needs. Because custom cabinets are built for your condo, you will have more usable space and less wasted space. Get More Information Here >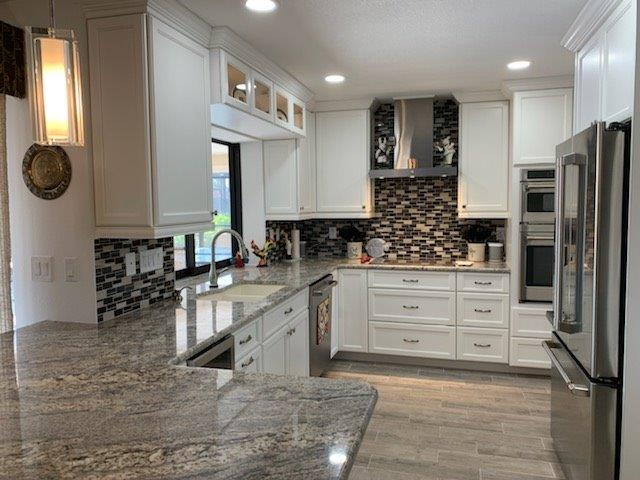 Countertops
If you are thinking about installing new countertops in your condo, you have made a wise decision. Not only will new countertops increase your enjoyment, but they will also enhance the value of your property. If your current countertops are chipped, stained, or just plain old, the addition of new countertops can beautify any space. Find More Information Here >
Experience the Difference With Southwest Restoration. Your Condo Deserves Nothing Less than the Best!
Quality Workmanship. Along with a Highly Trained and Skilled Team in Remodeling & Restoration
Help You Can Depend On 24 Hours a Day, 365 Days a Year
Experts with Insurance Claims
An Impeccable Reputation. 30 Years of Satisfied Clients in Southwest Florida
Extensive Experience and Knowledge of all Construction Phases
Honest and Comprehensive Communication throughout your Renovation or Restoration
Outstanding Customer Service
Superior Quality Control Standards
Free in-Home Estimates with no Surprise Costs
Protection & Peace of Mind – Professional, Fully Licensed & Insured Team, with IICRC Certification
You Have the Vision
We Have Your Solution
⇒  Kitchen Remodeling
⇒  Bathroom Remodeling
⇒  Custom Cabinetry
⇒  Closets
⇒  Flooring
⇒  Countertops
⇒  Entertainment Centers
⇒  and More
You Have the Vision
We Have Your Solution
⇒  Kitchen Remodeling
⇒  Bathroom Remodeling
⇒  Custom Cabinetry
⇒  Closets
⇒  Flooring
⇒  Countertops
⇒  Entertainment Centers
⇒  and More
Proudly Offering Kitchen Remodeling Services throughout Southwest Florida, Including: 
Port Charlotte
Punta Gorda
Manasota Key
Rotonda
North Fort Myers