Home Remodeling Contractor
Over 30 Years of Home Remodeling Experience in Southwest Florida
If you are searching for the best remodeling contractor for your home, contact Southwest Restoration. Building your dream home is something many people envision, and Southwest Restoration is here to help you make that dream a reality.  Whether you are thinking of remodeling your entire home or renovating a single room, we offer expert interior remodeling services for all sized projects.  Southwest Restoration is a locally owned and family run restoration and remodeling company.  We offer a multitude of remodeling services to the communities in Charlotte County, Lee County, Sarasota County and all surrounding areas.  Our friendly knowledgeable staff can help through the entire remodeling process from choosing colors and materials to the entire design and renovation process.
Why Choose Southwest Restoration for your Home Remodeling Project?
At Southwest Restoration we strive to provide the best customer experience in the industry.  Locally owned and operated in Port Charlotte since 1988, we care about our customers, community and employees and take pride in providing the best craftmanship and materials.  In our 30 years as a restoration and home remodeling contractor, we have worked with thousands of homeowners throughout Southwest Florida. With thousands of satisfied customers and an abundance of positive reviews, we are one of the best and most respected restoration and remodeling contactors in the area.  Whether you are a homeowner, designer, property manager or business owner, our goal is to deliver the highest standards of integrity, quality, and customer service at a price you can afford.  We want you to have the home of your dreams and will work with you to ensure your vision becomes a reality.
​Should you Hire a Home Remodeling Contractor or Do It Yourself?
Many times, homeowners are quite handy and enjoy taking on a do it yourself remodeling project.  While this may appear to be a fun challenge to endure and might appear to be cost efficient, many remodeling projects are best left for the professionals to do.  When home remodeling projects include things involving electricity, plumbing, structural changes and the installation of cabinets, countertops or flooring, calling a home remodeling professional is a wise choice.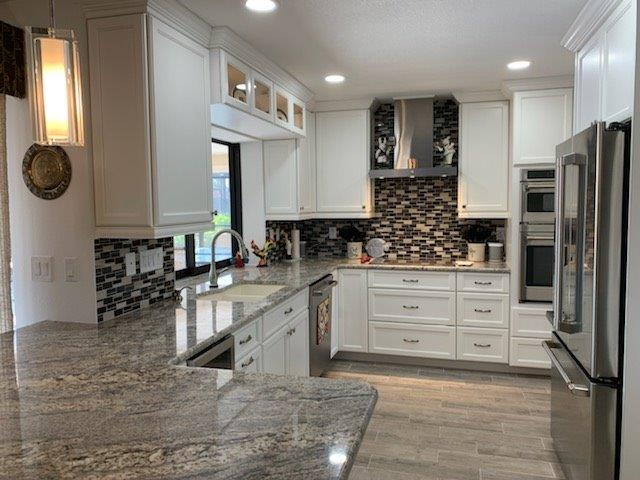 See More of Our Work Here >
What is the Most Popular Room in the House to Remodel?
According to the National Association of Home Builders, the kitchen has been and continues to be the most popular room to remodel.  Kitchen renovations insert value into the home both financially, aesthetically, and functionally.  Even the simplest updates, such as adding eye catching backsplash, new flooring, stone countertops and beautiful cabinets will increase both the value of your home and your level of enjoyment when entertaining, preparing meals, or hanging out.  The kitchen is considered the hub of the home and can set the design stage for the rest of your property.  The flooring and cabinetry you choose can easily transition throughout your house in bathrooms, bedrooms, living areas and hallways.  It is not uncommon for homeowners that want to remodel multiple rooms in their home to begin in the kitchen.
The Contractors at Southwest Restoration Can Help you Reach New Heights with your Home Remodeling Ideas.
Our talented craftsmen can help you design, build and install what is needed to create your dream home.  Whether you are looking for structural changes, whole home renovations, kitchen or bathroom remodeling, cabinets, flooring or backsplash, we are committed to providing our clients the highest standard of craftsmanship at affordable prices. We offer services such as:
Wall Units - Libraries & More
Are your remodeling and renovation needs due to an unfortunate disaster? 
No Worries, All Insurance Work is Accepted and We Bill Your Insurance Directly!
Contact Southwest Restoration, the best Contractor for All Your Home Remodeling Needs
At Southwest Restoration we know how essential your home is to you and your family.  For over 30 years, our team has provided unmatched craftsmanship and outstanding customer service to all our clients, large or small.  We ensure the highest quality work while maintaining budget and following timelines. We pride ourselves on our creativity and passion in bringing your visions to life.   Don't settle for anything less than the best for your home.  Contact us today for a free in-home estimate.
We hired Southwest Restoration to complete a project at our home that was a failed attempt by another firm. There were two main components: One was to remove and replace two doors that were installed incorrectly. The other was to install a large 10'x50′ custom tongue and groove solid wood ceiling at our home. It was very important to us that the installations would be done impeccably and by a certain date. Todd and Ryan quoted a fair price and their expert crew did the entire job beautifully and on time. It is rare to find true craftmanship but we did with Southwest Restoration. Thank you!
Popular Kithen Countertops
Bathroom Remodeling Trends
Restoration and Reconstruction
Don't Settle for Anything Less than the Best.  Experience the Difference Today!
Quality Workmanship with a Highly Trained and Skilled Team in Remodeling & Restoration
Help You Can Depend On 24 Hours a Day, 365 Days a Year
Help with Insurance Claims
An Impeccable Reputation, 30 Years of Satisfied Clients in Southwest Florida
Unmatched Craftsmanship
Extensive Experience and Knowledge of all Construction Phases
Honest and Comprehensive Communication throughout your Renovation or Restoration
Outstanding Customer Service
Superior Quality Control Standards
Free in-Home Estimates with no Surprise Costs
Protection & Peace of Mind – Professional, Fully Licensed & Insured Team, with IICRC Certification
You Have the Vision
We Have Your Solution
⇒  Kitchen Remodeling
⇒  Bathroom Remodeling
⇒  Custom Cabinetry
⇒  Closets
⇒  Flooring
⇒  Countertops
⇒  Entertainment Centers
⇒  and More
You Have the Vision
We Have Your Solution
⇒  Kitchen Remodeling
⇒  Bathroom Remodeling
⇒  Custom Cabinetry
⇒  Closets
⇒  Flooring
⇒  Countertops
⇒  Entertainment Centers
⇒  and More
Southwest Restoration is Proud to Offer Services in the Following Communities
Sarasota
Venice
South Venice
Arcadia
All Surrounding Areas