Beautiful & Affordable Countertops for your Home or Business
For the largest selection of beautiful countertops for your home or business, look no further than Southwest Restoration. Locally owned and operated with over 30 years of remodeling and renovation experience, we have helped thousands of clients throughout Southwest Florida transform their residential or commercial space into the look they have been waiting for. At Southwest Restoration we custom tailor your countertops based on your needs, lifestyle, vision and budget.  Whether you know exactly what you are looking for or not sure which countertop material would best suit your needs, our team will meet with you, review your needs, goals and objective and provide a customized solution and estimate based on your needs and budget.  From conception to completion the professionals at Southwest Restoration Inc. will make your vision a reality.
Transform your Countertops with the Highest Quality Stone
When it comes to remodeling and renovation projects, the first room that comes to mind is the kitchen or bathroom.  Even the simplest updates, such as new countertops will not only add value to your home or business, but it will also increase your enjoyment when preparing food, entertaining, or just hanging out.
Our Countertop Materials Include, but are not Limited to the Following:
Granite
Quartz
Quartzite
Marble
Silestone
Corian
Ceramic Tile
Formica
And More
Southwest Restoration Offers a Wide Variety of Beautiful Countertop Materials to Create Just the Right Look and Effect You Want from Your Remodeling Project
Are your Countertops Outdated?  Worn Out?  Stained, Chipped or Scratched?
If so, new countertops can breathe new life into your property.  Even the most modest kitchen or bathroom is immediately dressed up when new countertops are installed.  There is no denying the allure of stunning countertops.  From durability to increased style and elegance, the benefits include:
Increased Property Value
Added Functionality
Maintenance is Easy
Stain, Heat & Moisture Resistant
Less Chipping & Scratching
Increased Durability
Increased Style, Beauty & Elegance
And More
What are the Most Popular Countertops?
From natural stone to engineered stone there are many options when it comes to countertops.  When choosing a countertop, it is important to pick one that fits your needs, aesthetic desires, and budget.  The right countertop can be a focal point in your home or business, lend elegance and tie into an existing theme.  The most popular countertop materials include:
Granite –Granite is an affordable, durable countertop surface that resists heat, stains, and scratches. Being a natural stone, each countertop will be unique and instantly beautify any room in your home or business.
Quartz – Nearly indestructible, quartz countertops are durable, stain resistant and easy to maintain. Being a manmade stone, virtually any color is an option with quartz.
Quartzite – Quartzite is resistant to heat, chipping, and scratching. If you love the look of marble but do not like the price of marble, quartzite is perfect for you.  Some quartzite surfaces look so much like marble, it is hard to tell them apart.
Marble – Everyone loves the stylish elegance of marble. Marble is not recommended for the kitchen due to its soft nature, but marble is ideal for bathrooms.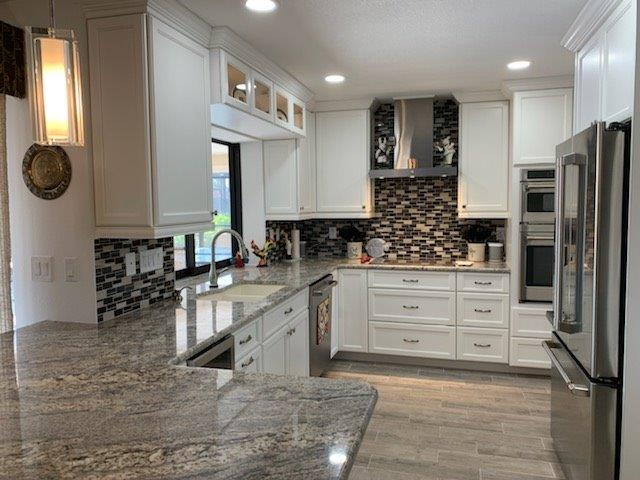 See More of Our Work Here >
Why Choose Southwest Restoration for your Countertop project?
As a family owned and operated business, owners Ryan and Todd are involved in every step of any service we provide, from start to finish. Our state of the art virtual design equipment will make it easy to turn your ideas in to reality. As the leader in all types of remodeling in Southwest Florida, Southwest Restoration is your trusted single source for all your home remodeling needs from countertops, custom cabinetry, flooring, and so much more. If you can imagine it, we can make it a reality. Not only will you enjoy the new lifestyle your remodeled property will provide, you will be adding instant value to your home or business. Southwest Restoration Inc. will always deliver the highest standard of quality, integrity and customer satisfaction. So, stop dreaming about your dream remodeling project and start living the dream. Contact us today to schedule your in-home consultation or visit our showroom and see what everyone's talking about.
I contracted with SW Restoration for a huge renovation that took 3 months to complete. The workmen were very courteous and respectful with us and our property. If there was an issue, I was always contacted by Ryan, the owner or Mark, the super on the job to communicate the issue and give me a timeline on when to expect things to be completed or resolved. I was impressed with all the staff from those in the field, to those in the office. I made changes along the way that were met with enthusiasm and professionalism. Warren surpassed my expectations in the kitchen remodel and went out of his way to make sure I got what I wanted. It was actually a pleasant experience and I recommend them highly. They care! About the workmanship and their customer. I felt like I was their only customer given the attenion they paid to my renovation. Extremely pleased and will use them again on the next renovation.
Don't Settle for Anything Less than the Best.  Experience the Difference Today!
Quality Workmanship with a Highly Trained and Skilled Team in Remodeling & Restoration
Help You Can Depend On 24 Hours a Day, 365 Days a Year
Help with Insurance Claims
An Impeccable Reputation, 30 Years of Satisfied Clients in Southwest Florida
Unmatched Craftsmanship
Extensive Experience and Knowledge of all Construction Phases
Honest and Comprehensive Communication throughout your Renovation or Restoration
Outstanding Customer Service
Superior Quality Control Standards
Free in-Home Estimates with no Surprise Costs
Protection & Peace of Mind – Professional, Fully Licensed & Insured Team, with IICRC Certification
You Have the Vision
We Have Your Solution
⇒  Kitchen Remodeling
⇒  Bathroom Remodeling
⇒  Custom Cabinetry
⇒  Closets
⇒  Flooring
⇒  Countertops
⇒  Entertainment Centers
⇒  and More
You Have the Vision
We Have Your Solution
⇒  Kitchen Remodeling
⇒  Bathroom Remodeling
⇒  Custom Cabinetry
⇒  Closets
⇒  Flooring
⇒  Countertops
⇒  Entertainment Centers
⇒  and More
Southwest Restoration is Proud to Offer Services in the Following Communities
Sarasota
Venice
South Venice
Arcadia
All Surrounding Areas