We have the Perfect Countertops to fit your Needs, Lifestyle and Budget in Lake Suzy
If you are looking for new countertops for your home in Lake Suzy, contact Southwest Restoration. From granite to marble, we carry all the latest styles and materials. This makes it easy to find a countertop that meets all of your needs. Whether you know exactly what you are looking for or are not sure which countertop material would best suit your needs, we can help! Our team will meet with you and review your needs, goals, and objectives. Then we will provide a customized solution and estimate based on your needs and budget. With over 30 years of experience and thousands of satisfied homeowners, contact us today!
Benefits of New Countertops in Lake Suzy
Are your Countertops Outdated? Worn Out? Stained, Chipped or Scratched? If so, new countertops can breathe new life into your home. Even the most modest kitchen or bathroom is immediately dressed up when new countertops are installed. 
From durability to increased style and elegance, the benefits include:
Increased Property Value
Added Functionality
Maintenance is Easy
Stain, Heat & Moisture Resistant
Less Chipping & Scratching
Increased Durability
Increased Style, Beauty & Elegance
And More
New Countertops will Provide more Comfort and Enjoyment!
Not to Mention Adding Value to Your Home for Years to Come
Carrying All the Latest Styles and Materials
Our Countertop Materials Include, but are not Limited to the Following:
Ceramic Tile
Formica
And More
What are the Most Popular Countertops in Lake Suzy?
From natural stone to engineered stone there are many options when it comes to countertops. Each material has its own set of unique benefits, properties and look.  As a result, when you are choosing a countertop, it is important to pick one that fits your needs, aesthetic desires, and budget. Generally speaking, some countertop materials are more popular than others. The most popular materials include the following:
Quartz
Nearly indestructible, quartz countertops are durable, stain resistant and easy to maintain. Additionally, quartz is a manmade stone. Which means that virtually any color is an option.
Granite
Granite is an affordable, durable countertop surface that resists heat, stains, and scratches. Moreover, granite is a natural stone. In other words, each countertop will be unique and instantly beautify any room in your home.
Marble
Everyone loves the stylish elegance of marble. However, marble is not recommended for the kitchen due to its soft nature, but marble is ideal for bathrooms and other areas
Quartzite
Quartzite is resistant to heat, chipping, and scratching. If you love the look of marble but do not like the price of marble, quartzite is perfect for you. As a matter of fact, some quartzite surfaces look so much like marble, it is hard to tell them apart.
For the Finest Fabrication and Installation of Countertops in Lake Suzy, Contact Us Today!
Southwest Restoration has been your local, trusted source for all you are remodeling needs since 1988. We are committed to providing you with unmatched craftsmanship and outstanding customer service. Furthermore, we ensure the highest quality work while maintaining budget and following timelines. In the long run, we are the local family owned remodeling contractor you can trust. We look forward to working with you, contact us today for a free estimate.
Ryan, Warren, Greg and their crew did an excellent job on our kitchen remodel. Our house is over 50 years old and the kitchen was not a convenient space. We also had a leak in the wall. Prior to the remodel, we had little counter or cabinet space. After the remodel, we have both. We also had to have mold remediation due to the leak in the cement block wall. SW took our kitchen down to the studs, got rid of the mold and re-architected a complete living space for us. SW was easy to communicate with, especially Jacinda in the office, they were responsive to our needs and their crew was very kind and neat. We would definitely recommend them for any job.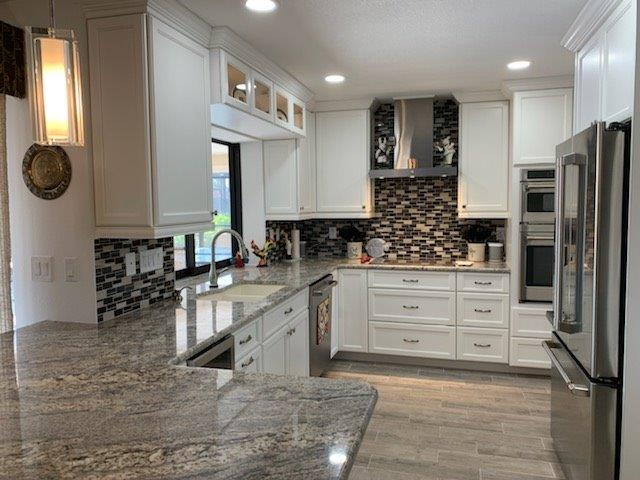 Experience the Difference With Southwest Restoration. Your Property Deserve Nothing Less than the Best!
Quality Workmanship with a Highly Trained and Skilled Team in Remodeling & Restoration
Help You Can Depend On 24 Hours a Day, 365 Days a Year
Help with Insurance Claims
An Impeccable Reputation, 30 Years of Satisfied Clients in Southwest Florida
Unmatched Craftsmanship
Extensive Experience and Knowledge of all Construction Phases
Honest and Comprehensive Communication throughout your Renovation or Restoration
Outstanding Customer Service
Superior Quality Control Standards
Free in-Home Estimates with no Surprise Costs
Protection & Peace of Mind – Professional, Fully Licensed & Insured Team, with IICRC Certification
You Have the Vision
We Have Your Solution
⇒  Kitchen Remodeling
⇒  Bathroom Remodeling
⇒  Custom Cabinetry
⇒  Closets
⇒  Flooring
⇒  Countertops
⇒  Entertainment Centers
⇒  and More
You Have the Vision
We Have Your Solution
⇒  Kitchen Remodeling
⇒  Bathroom Remodeling
⇒  Custom Cabinetry
⇒  Closets
⇒  Flooring
⇒  Countertops
⇒  Entertainment Centers
⇒  and More
Southwest Restoration is Proud to Offer Services in the Following Communities
Port Charlotte
Punta Gorda
Manasota Key
Rotonda
North Fort Myers
Fort Myers
Cape Coral
Lake Suzy
Englewood
North Port
Sarasota
Venice
South Venice
Arcadia
All Surrounding Areas