Providing Mold Inspection Services Since 1988
A mold infestation is one o the worst things to face. In fact, mold can turn your home or business into a nightmare. Not only will mold impact your health, but it will also attack the structural integrity of your property. That is why it is important to have your property professionally inspected for mold. Fortunately, you have found a company that can do just that. At Southwest Restoration, we provide mold inspection services in Southwest Florida. In fact, we have over 30 years of experience. Consequently, if you think you may have mold in your home or business, give us a call.
Mold is a common problem in Southwest Florida
By and large, mold is a common problem in Southwest Florida. This is due to many factors, including our tropical climate. However, leaks from roofs, pipes, or any area that has had a water intrusion is at risk of producing mold. In fact, after water damage, mold will grow at a rapid pace in just a few days. In fact, it only takes 48 to 72 hours for mold to multiply. Consequently, if you have had any type of water damage, you probably have mold.
You May Have Mold And Not Even Know It!
Mold may have taken up residence in your home or business, and you may not even know it. As previously mentioned, mold is a common problem in Southwest Florida homes and businesses. In fact, mold thrives in moist, warm, dark environments. Consequently, we might expect to see it in attics or crawl spaces. However, mold can rear its ugly head in many hidden places, including:
Behind Wallpaper
Chimneys
Front-load Washers
Under Carpeting and Pads
Beneath Drywall & In Duct Work
In the Attic, Bathroom, Kitchen
In Short, Mold Can Grow Anywhere
Schedule a Mold Inspection Appointment Today
In Short, Mold is Serious Problem That you can't Afford to Ignore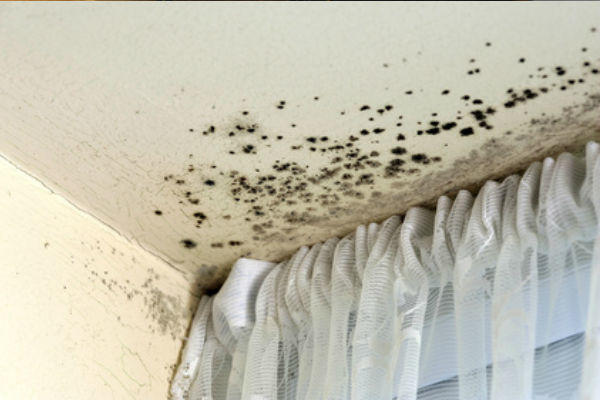 Should You Be Concerned About Mold?
According to the Florida Department of Health, the answer is Yes, and No. Generally speaking, small amounts of mold spores are present in most homes and can go unnoticed. However, health risks arise if mold grows and multiplies. This is concerning because mold spreads quickly. While the structural damage mold causes is bad, the health hazards are much worse, and can include:
Asthma and Allergy Symptoms
Difficulty Concentrating & Disorientation
Fatigue & Weakness
Headaches
Lightheadedness, Vertigo, Memory Problems
Nose Bleeds
Stiffness & Joint Pain
And Much More
When Should You Have Your Property Inspected for Mold?
You Detect a Musty Odor
While not all molds smell, many do. Consequently, if you notice a musty smell, you probably have mold.
Negative Health Problems
As stated above, mold causes health problems. If you are experiencing any of the signs above, contact us immediately.
Past Flooding
If you have experienced flooding in the past, chances are you have mold.
Visible Signs of Mold
While not all mold is visible, some mold is. In short, be on the lookout for stains or discoloration on walls, ceilings, or inside cabinetry. These stains will be either black, brown, yellow, or green.
If You're Purchasing a Foreclosure or an Unoccupied House
If you are buying a home that has been unoccupied, chances are there is mold. With the tropical climate associated with Southwest Florida, an unoccupied property, could have mold due to high levels of moisture, humidity, and heat.
You are Buying a Home
It is important that you have a mold inspection done when buying a home. In fact, there is no way for you to know if the home you are buying has mold. Generally speaking, regular home inspectors do not test for mold. Consequently, the only way to find out if mold is a problem is to have an inspection.
Water Leaks
As previously stated, mold isn't always visible. In fact, mold can be hidden behind wallpaper, walls, and more. If you have had a leak or flood, chances are you have mold. By and large, mold forms after water intrusions.
Contact Southwest Restoration for a Mold Inspection Today!
In Short, You Can Trust Our 30 Years of Experience and Training
If you think you have a mold problem, don't hesitate to call Southwest Restoration. In business since 1988, we have provided mold inspection services to thousands of customers throughout Southwest Florida. To sum up, if mold is present in your property, we can help. Not only can we find the mold in your property, but we can also remove it. With this in mind, contact us today to schedule your appointment. Otherwise, you can reach us online at the top of the page.
Professionalism, Punctuality, Quality, Responsiveness, Value
The work performed out our home was top notch. From the mold remediation to the replacement of all the flooring in the home everything went smooth as it should. The entire staff was professional and friendly to work with. The office staff was very responsive to any questions we had. Let me just say the superintendent of the job went ABOVE AND BEYOND to make sure the job was complete. He truly made our experience with Southwest amazing. The owners were in and out checking on the job which gave us peace of mind. We will definitely use them for any work in the future.
Don't Settle for Anything Less than the Best.  Experience the Difference Today!
Quality Workmanship with a Highly Trained and Skilled Team in Remodeling & Restoration
Help You Can Depend On 
Help with Insurance Claims
An Impeccable Reputation, 30 Years of Satisfied Clients in Southwest Florida
Unmatched Craftsmanship
Extensive Experience and Knowledge of all Construction Phases
Honest and Comprehensive Communication throughout your Renovation or Restoration
Outstanding Customer Service
Superior Quality Control Standards
Free in-Home Estimates with no Surprise Costs
Protection & Peace of Mind – Professional, Fully Licensed & Insured Team, with IICRC Certification
You Have the Vision
We Have Your Solution
⇒  Kitchen Remodeling
⇒  Bathroom Remodeling
⇒  Custom Cabinetry
⇒  Closets
⇒  Flooring
⇒  Countertops
⇒  Entertainment Centers
⇒  and More
You Have the Vision
We Have Your Solution
⇒  Kitchen Remodeling
⇒  Bathroom Remodeling
⇒  Custom Cabinetry
⇒  Closets
⇒  Flooring
⇒  Countertops
⇒  Entertainment Centers
⇒  and More
Southwest Restoration is Proud to Offer Services in the Following Communities