Kitchen Remodeling Lake Suzy
Over 30 Years of Kitchen Remodeling Experience in Lake Suzy
If you are looking for a kitchen remodeling contractor in Lake Suzy, contact Southwest Restoration. Whether you are looking for a complete makeover, or for simple changes, we can help. With over 30 years of experience, we have transformed thousands of kitchens in our area. From backsplashes to cabinets and countertops, our team will create a kitchen that incorporates the elements you want at a price you can afford. At Southwest Restoration, we will custom tailor your remodeling project based on your needs, vision, lifestyle, and budget. There is nothing that you can imagine that our team of in-house craftsmen can't create. From conception to completion, the professionals at Southwest Restoration will make your dream kitchen a reality.  
Benefits of Remodeling your Lake Suzy Kitchen
At Southwest Restoration we understand how important your kitchen is to your family. Having a kitchen you enjoy spending time in is essential to your happiness. Overall, the benefits you receive from remodeling your kitchen will bring enjoyment for years to come and include:
Adding Extra Space
Increase Comfort & Safety
Improved Design & Function
Enhanced Home Value
Reduced Energy Costs
Update the look – Beauty
And More
How Long should my Kitchen Remodeling Job Take?
The length of time your kitchen remodeling job will take varies depending on the scope and complexity of the work involved. Completely gutting your existing kitchen down to the studs and starting over will require substantially more time than smaller cosmetic updates. At Southwest Restoration, we can give you an idea of duration early in the design phase. Our team will meet with you and review your vision, goals, timelines, and objectives. Then we will provide a customized solution and time estimate based on your project needs.
Remodeling your Kitchen in Lake Suzy will Provide more Comfort and Enjoyment!
Not to Mention Adding Value to Your Home for Years to Come
Lake Suzy Kitchen Remodeling Services
When you hire us, we will tailor a plan to fit your needs and lifestyle. We have the experience, knowledge, and resources to work with the space you currently have and transform it into the space of your dreams, including:
Complete Kitchen Renovation from Demolition to Completion
Design & Project Management
Replacing Sinks & Faucets
Undercabinet Lighting – Light Fixtures
Are your Remodeling and Renovation Needs  Due to an Unfortunate Disaster?
Under those Circumstances You Do Not Need To Worry!
All Insurance Work is Accepted and We Bill Your Insurance Directly!
Have the Best Kitchen Remodeling Contractor on Your Side in Lake Suzy
At Southwest Restoration we know how essential your home is to you and your family. That is why we are committed to providing you with unmatched craftsmanship and outstanding customer service. We ensure the highest quality work while maintaining budget and following timelines. In the long run, we are the local family owned kitchen remodeling contractor you can trust in Lake Suzy. We look forward to working with you, contact us today for a free in-home estimate.
Ryan, Warren, Greg and their crew did an excellent job on our kitchen remodel. Our house is over 50 years old and the kitchen was not a convenient space. We also had a leak in the wall. Prior to the remodel, we had little counter or cabinet space. After the remodel, we have both. We also had to have mold remediation due to the leak in the cement block wall. SW took our kitchen down to the studs, got rid of the mold and re-architected a complete living space for us. SW was easy to communicate with, especially Jacinda in the office, they were responsive to our needs and their crew was very kind and neat. We would definitely recommend them for any job.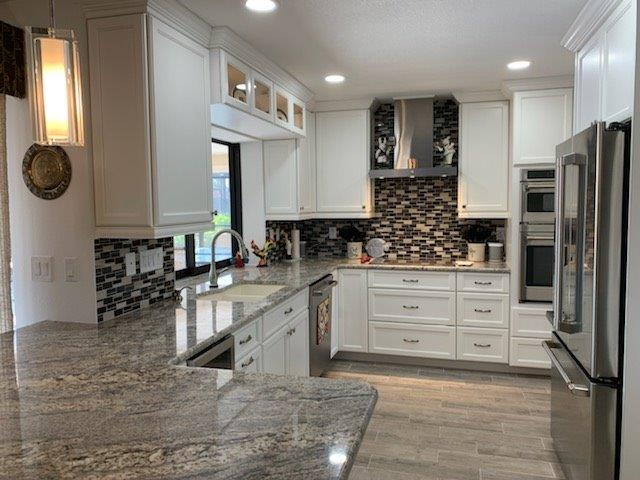 Experience the Difference With Southwest Restoration. Your Kitchen Deserve Nothing Less than the Best!
Quality Workmanship with a Highly Trained and Skilled Team in Remodeling & Restoration
Help You Can Depend On 24 Hours a Day, 365 Days a Year
Experts with Insurance Claims
An Impeccable Reputation, 30 Years of Satisfied Clients in Southwest Florida
Extensive Experience and Knowledge of all Construction Phases
Honest and Comprehensive Communication throughout your Renovation or Restoration
Outstanding Customer Service
Superior Quality Control Standards
Free in-Home Estimates with no Surprise Costs
Protection & Peace of Mind – Professional, Fully Licensed & Insured Team, with IICRC Certification
You Have the Vision
We Have Your Solution
⇒  Kitchen Remodeling
⇒  Bathroom Remodeling
⇒  Custom Cabinetry
⇒  Closets
⇒  Flooring
⇒  Countertops
⇒  Entertainment Centers
⇒  and More
You Have the Vision
We Have Your Solution
⇒  Kitchen Remodeling
⇒  Bathroom Remodeling
⇒  Custom Cabinetry
⇒  Closets
⇒  Flooring
⇒  Countertops
⇒  Entertainment Centers
⇒  and More
Proudly Offering Kitchen Remodeling Services throughout Southwest Florida, Including: 
Port Charlotte
Punta Gorda
Manasota Key
Rotonda
North Fort Myers
Fort Myers
Cape Coral
Lake Suzy
Englewood
North Port
Sarasota
Venice
South Venice
Arcadia
All Surrounding Areas